---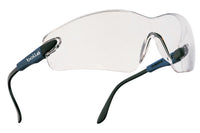 The Bolle Viper Clear PC AS Spectacles are lightweight with adjustable temples and panoramic vision.
Manufactured using the highest quality materials and up to date technology, Bollé have successfully positioned themselves as a recognised international brand and here at online safety suppliers we are proud to be able to offer their products to you.
Due to its adjustable side arms, modern sporty design and excellent panoramic vision the Bollé Viper has proven to be one of our most popular safety spectacles. The crystal clear Optical Class 1 Polycarbonate lens gives all round vision Grade F impact protection and is also Anti-Scratch.
Lightweight
Adjustable temples
Panoramic vision
Blue nylon frame
Sport design